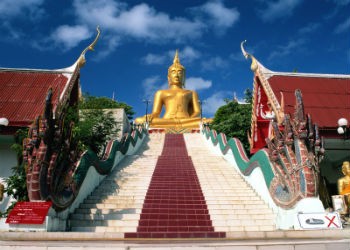 10 interesting things about Thailand
1.

Bangkok's night life scene at Khaosan Road and Patpong, Grand Palace and Buddhist temples such as Wat Arun and Wat Pho have made the city a major tourism hub with MasterCard's Global Destination Cities Index declaring it the most visited city and Travel + Leisure magazine declaring it "World's Best City" for four consecutive year.
2.

Don't get tired...look at this name..."Krung Thep Mahanakhon Amon Rattanakosin Mahinthara Yuthaya Mahadilok Phop Noppharat Ratchathani Burirom Udomratchaniwet Mahasathan Amon Piman Awatan Sathit Sakkathattiya Witsanukam Prasit"...That is the traditional name of Bangkok and has been listed as the longest name for a place by Guinness World Book of Records.
3.

At 132.2 meters, the Bangkok's Don Mueang International Airport features the world's tallest aircraft control tower.
4.

Bangkok is fondly referred to as the 'Venice of the East' due to its active nightlife scene as well as having as many canals as Venice in Italy. It is also called 'City of Angles' due to its fascination with city planning.
5.

If you want to spend your day away from the city's hustle and bustle without venturing out of the city, the Rama IX Park and Chatuchak are the two largest parks in Bangkok and will be a good place to rest.
6.

Bangkok is dissected by the meandering Chao Phraya River. The scenic river banks of Chao Phraya add to the beauty of the city.
7.

The Siam square and Silom areas are the city's unofficial center. If you are in Bangkok on foot and you get lost, then the best place to bring back your sense of geography will be Siam Square.
8.

There are 200,000 US$ millionaires in Thailand, 95 percent of whom live in Bangkok. You will be in company of some really rich chaps in Bangkok.
9.

The culinary exploits of the Thai people is unrivalled in the Southeast Asia. From jasmine rice to Pad Thai dishes, you will be treated to the best food you can find in Southeast Asia.
10.

The best of the best is the Thai massage. Initially, Thailand became a popular tourist destination due to exotic massages that doubled up as brothels. Today, the government has been strict in Bangkok and you can get your massage without getting unsolicited attention from the red-light district workers.
| Name | Meas. | Cost[AMD] | Change |
| --- | --- | --- | --- |
| USD | 1 | 403.1 | 0.15 |
| GBP | 1 | 507.8 | -1.3 |
| EUR | 1 | 434.9 | -1.5 |
| RUB | 1 | 4.350 | -0.0 |